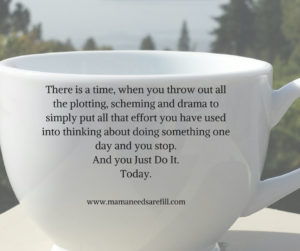 Monday morning I was awakened at 6:30 by the sound of our front door closing. Who was leaving? Who was coming home? Turns out my hubby had just returned from an hour walk to the beach.
Huh? Who is this man and what has he done with my husband?
My hubby looked at me all sweaty, wiping his brow, "I was tired of thinking about it. You know I've been wanting to walk for a long time now."
Hubby is not a morning person. For the twenty something years we have known each other he abhors morning exercise. Lately, for a long time now, he has been talking about the morning time being the only opportunity he has to exercise. Three times this week now he has embarked on his new commitment, creating a new habit that has been on his mind for some time.
That's how I was with meditation. I thought about it for ten years before I did anything about it.
We can think about it, talk about it, seek inspiration and help from others until finally one day, all that gets old and we realize, It Is Time. No big fan fare. Minus the drama. Simply enough is enough and it is time to put our money where our mouth is and step forward. Day dreaming has served its purpose. Time for action.
I think we need to honor the fact that sometimes we have to think about it and let the idea stir within us long enough before we are willing to make a change.
My husband is walking now. I am meditating now. The next thing that perhaps we are both tired of talking about is date night. We are having lunch together today. Don't tell, but it will be our second lunch date in a month. Our second in nearly eighteen years of marriage.
Talking and thinking gets old so you just do it. Is there something you are sick of thinking about and bored with talking about? Is the only thing standing in your way your own feet? Ready to move them?
Hi, I'm Jenny Gwinn McGlothern, Certified Transformational Master Life Coach who has been leading retreats for women and coaching them since 2009. On the path of discovery, always seeking, it is clear that one of my favorite ways to fill my own cup is by writing. May my weekly blog give you a sip to reflect, a nugget to chew, a thought to refill. If it is an accountability partner you seek, I offer life and spiritual coaching for men and women in person in Seattle and by phone. Next Sack Lunch Mini-Retreat is Friday June 3rd  in West Seattle is sold out, mark Wednesday September 28th on your calendar! info@mamaneedsarefill.com or www.mamaneedsarefill.com or 206 255 0463.