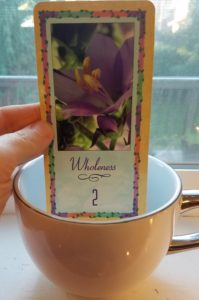 Every year I choose a word rather than resolutions. Every year a word chooses me and it is never an accident.
Awake was my word for 2017 and oh, my goodness, did I wake up. I woke up to whole lot of awareness. I made changes. I embraced my brokenness and allowed my best parts to come forward. I made connections to things that were holding me back and learned powerful lessons. I let go as I woke up to things that have hovered over me like a dark shadow in the past. I made space. During my healing and recovery from two major foot surgeries I was given the gift of awareness of how I was being my own obstacle on my life path. A true wake up call indeed. Do I have room for more growth? Totally. Is there space within for more awareness? Absolutely. Is there room for shifts, lessons, change and transformation? Damn straight.
This is why, after intense deliberation I have chosen, or really WHOLENESS itself, has chosen me to be my word for 2018. I am ready to wake up to all of me. I am ready to bring out my best self in all areas of my life. I am ready to abstain from ignoring my needs, my desires, my truth. I am ready to notice, allow and create living fully, living WHOLEY. I am ready to bring out all of me to the surface, body, mind and spirit. This touches on my value of being a woman of integrity. This taps into my personality type of putting others first and nudges me to to step it up and honor all of me rather than waiting on the back burner. This will take courage and trust. This will take honesty and bravery. I am ready.
I am seeing myself crawling into bed each night fully complete, knowing I did my best for the day, having paid attention to the WHOLE of me, the WHOLE of my life. Like you, I have many roles and wear many hats, so in 2018 it is about honoring the parts of me that I have let lay dormant.
My wholeness is personal and allowing it to come forward will affect all those around me. For every change we make, all are affected. Everybody feels it. We all are ripples in a big ocean.
This brings me to you. Your word is personal and need only make sense to you for you are the one it is supporting. What is percolating within you and is ready to come out? What are you ready to say YES to in 2018? Is there a word dear Cup Holder that could support you? Perhaps you have chosen a word already. Perhaps you are waiting for the word to choose you.
If you need some simple instruction, start by listening. Ask, what word will anchor, guide and support me this year? Ask yourself what are you ready to feel? Notice what you constantly think about. Be aware of what you are tired of being and doing and be open to create a shift. Play with words. Try them on for a day by using a certain word as a one word intention.
After trying on and playing choose the word that brings you the most peace, the word that you intuitively know must be yours in 2018. When you do this you need not make a long list of resolutions. Your unspoken resolutions, goals, intentions and dreams will begin to unfold simply by tethering yourself to a powerful, life-giving word. You will step forward in your own unique, perfect way, checking all off the list that needs to truly be checked.
Every year I choose a word rather than resolutions. Every year a word chooses me and it is never an accident.
When I went to bed New Year's Eve I was 100% certain that WHOLENESS was the word for me. On New Year's morning sitting in meditation, participating in my morning rituals, I was nudged by Spirit to pull an Angelic Messenger Card. I use cards often in my way to connect to the Love and Wisdom of the Universe, as my way to get connected to the God who dwells within. I quiet my mind and get a specific question on my heart and tip of my tongue. How will I step into WHOLENESS in 2018? After that, I asked clearly, Which deck? How many times should I shuffle the deck? Which card should I turn over?
I slowly, intentionally and carefully listened. When it came time to turn over the ninth card in the center pile of the 44 card deck, I was not surprised and blown away at the same time. WHOLENESS. An affirmation, that even if I did choose the word, it also chose me.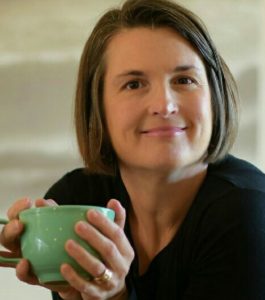 Hi, I'm Jenny Gwinn McGlothern, Certified Transformational Master Life Coach who has been leading retreats for women and coaching them since 2010. On the path of discovery, always seeking, it is clear that one of my favorite ways to fill my own cup is by writing. May my random blog give you a sip to reflect, a nugget to chew, a thought to refill. If it is an accountability partner you seek, I offer life and spiritual coaching in person in Seattle and by phone. info@mamaneedsarefill.com or www.mamaneedsarefill.com or 206 255 0463. (Next mini-retreat in West Seattle, Friday January 5th is sold out. Two seats available for February 9th mini-retreat: Love Cup. 9:30 – 2 PM. April 20th and June 8th mini-retreats: 5 open seats each.