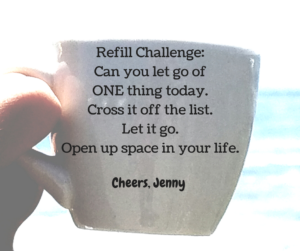 When the going gets tough, shit hits the fan or we run out of gas and want to run away, one might say we are running on empty. Holding an empty cup. In need of a refill.
My entire Mama Needs A Refill message is about going within to refill, recharge, rejuvenate. Stop. Ask for what you need and listen for your answer.
I am creating social media Refill Challenges and will be posting them on FaceBook and Instagram a couple of times a week. I haven't decided if I will go with the same day of the week or be random. For starters it is an experiment. The purpose is to remind myself how to refill and to offer inspiration for you, dear Holder of the Cup. I posted my first "official" one earlier this week. Look for them on my Instagram and FaceBook Pages.
I'd love to hear from you regarding topic suggestions for the challenges. Whether it is around body, mind, spirit, kids, being a working mom, relationship etc. Post topic suggestions in the comments and I will take your words to heart. Thank you.
Carry on. Remember no one can pour from an empty cup and you are the only one who can pour your refill. Cheers!
Hello! I'm Jenny Gwinn McGlothern, Certified Transformational Master Coach for your Life and Spirit. I have been leading retreats for women and coaching them since 2009. One of my favorite ways to fill my own cup is by writing. May my weekly blog give you a sip to reflect, a nugget to chew, a thought to refill. If it is an accountability partner you seek, I offer life and spiritual coaching for men, women, teenagers, and couples, in person in Seattle and by phone.  2017 Mini-retreats in West Seattle 9:30 – 2: June 2 (sold out), September 15 (4 seats left). Limited availability, register early. info@mamaneedsarefill.com or www.mamaneedsarefill.com. 206 255 0463.