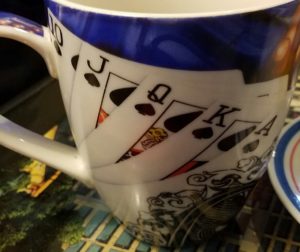 Do you get caught up in the comparison game? The silly game of she has, I don't. She did, I didn't. He is, I ain't. She's stronger. He's smarter. I love games, I play them often. And this one is not fun. You are constantly setting yourself up to lose. And even though it's not about winning, there is no reward. No connection, no joy. Right out of the gate you are sacrificing your Queen or being sent to jail without the "get out of jail for free" card.
Ok, if comparing gets you going and out the door, wonderful, game on. For me, it keeps me stuck, doing nothing, failing without even getting started. Desiring to paint, but never picking up a brush, thinking that even a toddler has more talent than me. Wanting to volunteer my skills, but noticing others in the group have more experience. Whether it's baking, writing, speaking, dancing or organizing a closet there will always be someone else who I think does it better  than me. Better doesn't matter. Getting up off my feet is what matters.
If there is something your heart is tugging at your shirt sleeve to do and your inner knowing is hungering for you to get started, then let that be your fuel. Let her business be her business. Let his deal be his deal.
Create your thing. Do your dance. Play your game.
Don't let comparison keep you out of the game. You have everything you need. You got this. Play on.
Hello! I'm Jenny Gwinn McGlothern, Certified Transformational Master Coach for your Life and Spirit. I have been leading retreats for women and coaching them since 2009. One of my favorite ways to fill my own cup is by writing. May my weekly blog give you a sip to reflect, a nugget to chew, a thought to refill. If it is an accountability partner you seek, I offer life and spiritual coaching for men, women, teenagers, and couples, in person in Seattle and by phone.  2017 Mini-retreats in West Seattle 9:30 – 2: June 2 (sold out), September 15 (4 seats left). Limited availability, register early. info@mamaneedsarefill.com or www.mamaneedsarefill.com. 206 255 0463.