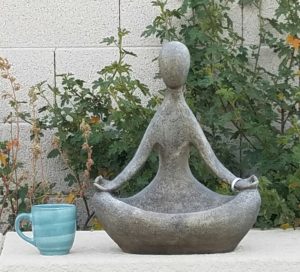 I am blessed to be on a four day get away. Away from family, commitments, responsibilities. Out of the state and in a couple of hours actually out of the country.  A brief breather. As I woke up in the guest room of my friend's house, the one thing I wasn't away from was me. Me and my rituals. I propped two pillows behind my back and meditated longer than I would have if I was at home. I refilled my cup before my feet hit the floor.
I know this about myself. I need quiet. I need to disconnect from the outer world and connect to myself regularly. I also know it doesn't have to be fourty minutes every morning like it was today. Ten minutes does wonders. Two minutes in the car is life changing. You can't do it wrong. It takes practice. That's it.
Turn off the phone, the busyness. And even though the mind doesn't have a permanent off switch, it has a pause button. You get to acknowledge the thoughts at the same time you say, Not now. I tell clients to put that thought on a little wooden boat and let it float down the river in their mind's eye.
Stillness allows me to connect to myself again and that is the refill that gives back. It gives me strength, wisdom, peace of mind, awareness, self love, fuel for living.
Will you hit the pause button today? You don't need to get out of town or leave the country. You simply need to stop, be quiet inside. The outside around you may not be quiet, but that doesn't need to be your excuse. Go within. Be. Still. Breathing always helps. And when the boat comes floating toward you with a thousand thoughts, you get to say, Not Now. Now I am  pausing to connect to me, myself and I.  Now I am refilling.
Hello! I'm Jenny Gwinn McGlothern, Certified Transformational Master Coach for your Life and Spirit, who has been leading retreats for women and coaching them since 2009. One of my favorite ways to fill my own cup is by writing. May my weekly blog give you a sip to reflect, a nugget to chew, a thought to refill. If it is an accountability partner you seek, I offer life and spiritual coaching for men, women, teenagers, and couples, in person in Seattle and by phone.  2017 Mini-retreats in West Seattle 9:30 – 2: March 3, (now room for one more)  June 2 (2 seats left), September 15 (5 seats left). Limited availability, register early. info@mamaneedsarefill.com or www.mamaneedsarefill.com. 206 255 0463.