In  January 2017 Mama Needs A Refill will begin its 8th year of holding retreats for women! This thrills me to the core.
I don't always like being a mom. I find it challenging, scary and overwhelming.  But you know what?  I feel that way when my cup is empty.  When I have taken the time to water my soul, physically, spiritually, emotionally and mentally, I love being a mom, and my cup is full to overflowing.  In the nature of parenting we give and give to others, it is essential to refuel our soul.
All women need a refill, not just moms.
I have been holding retreats now since 2009. Nothing fills my own cup more than walking with someone on their journey to their own self discovery.
Through sharing, laughter, ritual, silence, meditation creativity and journaling – the four time a year sack lunch mini-retreats I offer, provide space for you to RECEIVE. Optional Life Coaching and Inspirational Readings are offered. In this relaxed environment you will give yourself permission to let go and only tend to your needs. This time allows you space to reflect, ponder, surrender and just be.
As nine time attendee Amy. A says, "It is a day spa for your soul." How often do you get to unplug and listen to your wisdom within? Here you have no other alternative in this intimate retreat setting.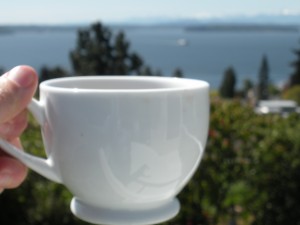 Please visit our calendar of events for the monthly dates of our Sack Lunch Mini Retreats.
Create a Retreat for you and your colleagues, friends or group. I can come to you and we can create your own unique group retreat experience.
Contact me and let's plan something great! 206 255 0463