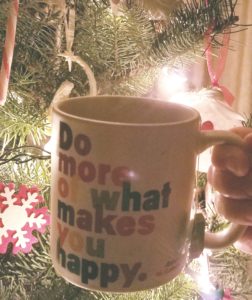 Dear Holders of the Cup,
Two weeks ago I gave you 10 secrets to holding a full cup this holiday season, (http://www.mamaneedsarefill.com/2017/12/free-refill-tis-the-season/), and I am breaking down those secrets further. Let's look at Slow Down as a way to actually savor the holiday season while holding a full cup.
Running errands last Friday I spotted a parking spot right in front of the store I needed to visit. I flipped on my blinker as I moved into position to parallel park. (Have I ever told you I am the Queen of Parallel Parking? Well, I am. Except for that one, okay, two dents on my fender.) I immediately realize a dude has pulled his car right up to my bumper and I now have no space to back in and parallel park. So I wait for him to notice my blinker.
HONK, HONK, HONK, blares his horn causing many too look our way. The blinker making I later learned one pedestrian told him, She is parking, you need to go around. And he did have plenty of room to go around on the four lane road, which was relatively quiet except for his honking.
As the moment became longer I could see him yelling from his car. You want to know what I did? I waited. I breathed. I didn't take it personally. I considered it an invitation to slow down. He eventually passed me and I eased into the parking spot.
What was his problem? A passerby inquired as I got out of my car.
I don't know, I told her, the old me would be upset and crying after yelling and flipping him off. She laughed.
I didn't need to jump on his party bus of hurry-hurry-rush-rush. I was invited, but returned the invitation. ("Return to Sender, address unknown, no such number, no such home." Thank you Elvis.)
This is what I mean about slowing down, we don't have to join in with others' stress. We get to choose the energy we want to spread. Expanding this further we get to listen longer to the music, pause to connect with a stranger, visit with the store clerk, chat with the Salvation Army attendant, take an extra few minutes to sit down and drink our cup of coffee or tea while it is still hot. We get to notice the lights and even take a different way home to discover new ones. We get to taste the cookie dough as we bake and savor the details of preparing a meal for guests.
When we slow down we are present. Taking our actions at a slower, deliberate pace allows beauty and light of the moment to seep in. In those moments I find myself racing to the next thing, I realize I am the only one who thinks I have to rush. As I let my shoulders drop and take a deep breath, I invite in patience and I ask for help. Whether it's from Angels, God, my children, my husband, or the passerby on the street corner. Everyone wants to help, the outpouring of help is always available. We need only receive. This can be utterly Divine help in the form of Grace, others taking on tasks or wisdom shared from random connection.
We get to see "interruptions" as presents to unwrap. When I happen to run into someone I am not expecting to see in aisle twelve, I receive the invitation to slooooowww down and I become present with that person, rather than with that thing that needs to get checked off the list. The task can wait. What is more important in the moment is who or what is standing before me. I use to get super annoyed when I was in a hurry and I'd see someone I know at the store, now I smile, and thank the Universe for sending me a sign to slow the F down.
In slowing down we witness Grace and we realize all that truly needs to get done, will get done. You are supported. You got this. Now please enjoy the season for it is the path to the holiday not just the holiday itself that it waiting to be unwrapped. Just for you. Sip and savor each moment.
Cheers, Jenny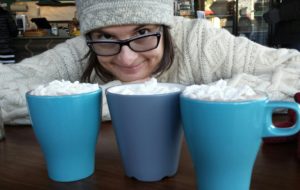 Hi, I'm Jenny Gwinn McGlothern, Certified Transformational Master Life Coach who has been leading retreats for women and coaching them since 2010. On the path of discovery, always seeking, it is clear that one of my favorite ways to fill my own cup is by writing. May my random blog give you a sip to reflect, a nugget to chew, a thought to refill. If it is an accountability partner you seek, I offer life and spiritual coaching in person in Seattle and by phone. info@mamaneedsarefill.com or www.mamaneedsarefill.com or 206 255 0463. (Next mini-retreat, Friday January 5th is sold out. Two seats available for February 9th mini-retreat: Love Cup. 9:30 – 2 PM ( 2 seats left), in West Seattle. April 20th and June 8th mini-retreats: 5 open seats each.