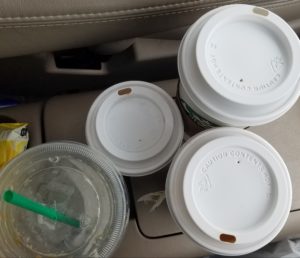 Summer time means break time for some. No school for kiddos. A hiatus from the usual. A change of pace. A meandering from the norm.
Writing to you from Canada on a family vacation, I am definitely on a break from my normal routine. I am not checked out, I am checked in. Still operating as usual, but in a different setting. Meals are still being prepared, responsibilities being tended to, but I am definitely on a break. A time to connect with family. And in this time to be present to those near and dear to my heart, I am getting the opportunity to check in with myself.
As the house sleeps nestled among the Whistler peaks, the sunlight illuminates the room I am writing in. I take a breath and realize, yes, I need a break. I have decided to give a little breathing space from  my weekly posts to simply BE. I am being nudged to take a respite from my Friday Refill Blog posts. I am being called to create a little bit of space between the action. When we stand so closely to something, we miss the light coming through the cracks. We miss the big picture. I have been showing up to the blank page every Friday since February 2010. I still want to show up. The joy is still there, I only want to discover some clarity and that comes when we remove the busyness, the clutter, the doing out of habit. On this unspecified recess that may be two weeks or it may be a month,  or perhaps longer. I want to ask myself, "What is the purpose and intention behind my words?"
I want to get clear about what I am doing in this blog space each week. I want to continue to show up authentically with nuggets of gold that support and inspire your journey and I can do that if I step back, take a breath, create a bit of space.
When I was a Bikram practitioner for seven years, I took breaks. When I returned, I discovered new muscles, I found new places in my body that needed my breath, my attention and my awareness. As a life coach, mom, wife, teacher, writer, retreat leader, friend, I need breaks to hear my own voice. I crave rest to get grounded so that I can receive and identify what is important. When I emerge I have a new perspective, my cup is refueled.
Looking out at this beautiful Whistler Valley, I am taking a break from looking at my backyard trees. The trees will be there when I return home in a few days, I will be the one who is different. In that respite from the usual, the light will appear different. Perhaps brighter, perhaps duller, perhaps a completely different color.
Breaks aren't giving up, breaks are necessary respites of grace. I ask you, dear Holder of the Cup, where in your life would a little break provide insight and rejuvenation for your body, mind and spirit? Where can you step back and enjoy the view, allowing the view to change you as you open up to receive?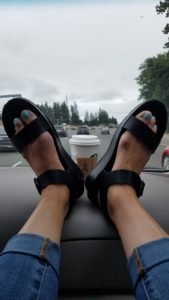 On this break from my Friday Free Refill posts, I can still be found on Instagram and FaceBook, (Mama Needs A Refill) and I have a few open spots for life coaching clients. Reach out to my contact info listed below. My summer newsletter will come out in August, so do let me know if I can add you to the mailing list of this quarterly newsletter. Stay tuned for the the fall workshop, The Exhale Series, I am creating with Breath Coach, Tracey Stover. (3 Sundays, 1 – 6 PM, October 1, November 5 and December 3. Gatherings for connection and release as we discover how to live more fully.) And the dates of the next two Mama Needs A Refill mini-retreats are, September 15 and January 5.
Cheers, Jenny
Hello! I'm Jenny Gwinn McGlothern, Certified Transformational Master Coach for your Life and Spirit. I have been leading retreats for women and coaching them since 2009. One of my favorite ways to fill my own cup is by writing. May my weekly blog give you a sip to reflect, a nugget to chew, a thought to refill. If it is an accountability partner you seek, I offer life and spiritual coaching for women, men, teenagers, and couples, in person in Seattle and by phone.  2017 Mini-retreats in West Seattle 9:30 – 2 pm. Next one, September 15 (1 seat left). Limited availability, register early. info@mamaneedsarefill.com or 206 255 0463.