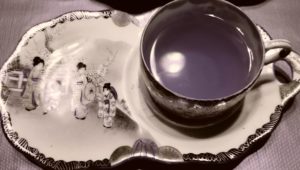 This past weekend my long time college friend Lisa and I said, Sayonara, to our hubbies, kids, dogs, all of our responsibilities, packed up her car, hit the highway and never looked back. When I asked Lisa on our drive to Portland what her intention for the weekend was she took a deep breath, "I want  you to have fun this weekend, that will bring me joy." It was my first trip away after a long winter of foot surgery recovery, I was ready to choose joy for sure.
We stayed with her aunt and uncle, whom I could easily adopt as my own family. I acclimated quickly to their beautiful home, open hearts and peaceful way of living.
It is impossible to spend time with another person and walk away unchanged. Our interactions, sharing, connection and simply the experience of being in their energy motivates, inspires and wakes us up to our own creativity and purpose within. For instance, on this visit, our first conversation of the weekend was about their newly inspired kick to follow the advice of internationally renowned, Japanese born, de-clutter and organization expert, Marie Kondo. The author is all about tidying up based upon her method of keeping only "what brings you joy." My friend's uncle and aunt have always been tidy and organized, this new motivation deepened that awareness of organization. Their united passion for the way they live is fueled by inspiration from a particular era. My first visit with Lisa, a decade ago, was during their Victorian period. Their homes have been in magazines and their own expertise has been written about in a number of publications. In their new since my last visit, current home Japanese antiques adorn their 1920's bungalow. I was revisited with memories of living in Japan back in my early twenties as a recent college grad. This sparked sharing stories I had forgotten with our hosts as well as chatting in Japanese with my friend's uncle, watching a 1953 Japanese film and of course going out for sushi. Forgotten memories resurfaced of a very happy and exciting time in my life. Although, I didn't come home ready to move to Tokyo, I did come home with new inspiration.
On Monday, attending to the grocery shopping, household chores and mom responsibilities, I had the sudden urge to plant and fill the house with beauty. I stopped at the local nursery and bought petunias for our front porch pots and more basil and bright colored plants for the back deck. Basil brings me joy, I make lots of pesto in the summer. Bright pink flowers call out to me to smile.  This yearning for beauty found me buying sunflowers for the living room and a new succulent potted plant for our entry way. I felt myself re-energize as I dug in the dirt outside and arranged flowers inside.
On our way back home to Seattle, Lisa and I discussed how we could create our own de-clutter method for each of our homes. We aren't necessarily going to follow the Kondo rules, but instead adopt rules of motivation that work for us. We are calling it the JenLi method. (I will keep you posted in future blogs.)
This visit ignited planting more flowers and creating a new de-clutter plan. Interactions change us. Transform us beyond words. Even if Lisa's uncle and aunt were slobs and didn't serve our tea from an antique teapot, the experience still could have inspired me to choose flowers and keepsakes from a place of joy. The fact is every experience is an opportunity for inspiration. On our drive both to and from Lisa and I caught up on each other's family life, work, challenges and we sang from the top of our longs to music from the 1970's. If that doesn't bring joy then I urge you to find your own era and a person who warms your heart to sing along with you.
Hello! I'm Jenny Gwinn McGlothern, Certified Transformational Master Coach for your Life and Spirit. I have been leading retreats for women and coaching them since 2009. One of my favorite ways to fill my own cup is by writing. May my weekly blog give you a sip to reflect, a nugget to chew, a thought to refill. If it is an accountability partner you seek, I offer life and spiritual coaching for women, men, teenagers, and couples, in person in Seattle and by phone.  2017 Mini-retreats in West Seattle 9:30 – 2 pm. Next one, September 15 (3 seats left). Limited availability, register early. info@mamaneedsarefill.com or 206 255 0463.