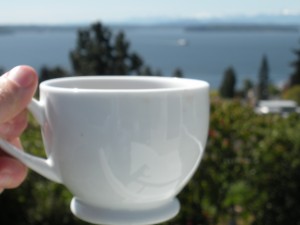 Only two  more Sack Lunch Mini-Retreats left in 2017. Friday June 2nd and Friday September 15th.
One seat left for June's mini-retreat, text Jenny today, 206 255 0463, and the spot is yours. Four spots open for September, seats fill up fast.
What exactly do we do? Well, as nine time, soon to be tenth time attendee, Amy says, "This is a spa for your soul." With that being said, we gather in a small group and share on a chosen topic, we listen, we laugh, we meditate, we step away from each other and we reflect, journal, go for a walk, create a work of art, read a book, turn off our phones, give ourselves space to just BE and if desired, have a one-on-one private coaching session or inspirational card reading from me, Certified Transformational Master Life Coach for your Spirit.
How often do you give yourself permission to listen to your stirrings within your beautiful soul? We think we don't have time to simply BE. I have an opposite view. I believe when we honor refilling our cup with doing less and going within we have more time, we are less chaotic, we discover clarity and the flow of life doesn't feel so suffocating.
I have been leading these mini-retreats for seven years now and I'd love to meet you. Please don't consider joining us, JOIN US!
Contact Jenny: 206 255 0463 or info@mamaneedsarefill.com.