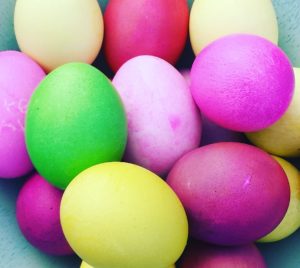 I received a text from my friend yesterday, her husband died in her arms  that morning after she read him a poem about leaving this life. His passing, which was expected, was holy, he was held in love and so was my friend.
We are in the middle of Holy Week. This used to be a time of year that I was deeply entrenched  –  going to mass Thursday, Friday, Saturday and Sunday. My favorites were always today Good Friday and yesterday Holy Thursday. Our family renamed Holy Thursday to Foot Washing Thursday. We would go to our Catholic church and partake in this sacred act.  As we went up as a family to the altar, beautiful music played and basins of water were brought to us. We got down on our knees in front of a family member  and washed and dried their feet. So tender  to see my daughter's little hands wash her dad's big feet or my son's sweet look on his face as he took great care tending to my feet. And, what a joy, a gift, to wash my children's feet. This year I am in the middle of recovering from foot surgery and was not up to  the walk down the aisle. Instead my mom brought us Catholic Sader dinner. Complete with foods that represent and honor the Last Supper.  A meal I grew up with that offers unleavened bread to symbolize the rush to flee their country, bitter herbs for the harsh years, and lamb to represent sacrifice to name  a few of the symbolic foods.
I appreciate the history. I value the traditions. Holy has taken on a different meaning for me the last couple of years. Just this week I witnessed a holy moment when I looked out my window and saw a humming bird perched above a Stellar's Jay. For a flash I saw the two together, maybe chatting in the way birds do. These happen to be two of my favorite birds. My two kids home for spring break, kicked the soccer ball and played catch together Wednesday afternoon.  They laughed and had fun. Anyone who understands the sibling relationship, knows that this too, is a holy instant.
These holy instants don't have to involve Jesus, church or a special day on the calendar. This life is holy, precious and sacred. A shared moment of understanding, forgiveness, a change of heart, a touch, a kiss, a tight bud unfurling, bird song.
I invite you to wake up, notice and witness the holy instants around you. Spring is full of them. Seeds planted in the fall now poking through the earth. Trees coming alive in full color. But my favorite are the holy instants with other human beings. For each of us holds sacredness within and it is through connection with another that it comes out. Let us be kind. Let us be gentle. Let us be aware. Let us honor the beauty within each of us.
You don't have to belong to a certain religion to find the holy. Find your own holy. Create those holy moments by getting out of the way and witnessing life around you. A stranger receiving help from another stranger. Two birds dancing together. The sun rising behind thick clouds. Life is precious. Let us honor it always, not just during Holy Week.
Last night I wasn't in a church and I experienced holiness around the table sharing a meal with my family. No one volunteered to wash my scarred, healing foot, but their connection was enough. And again this morning reading a post from my friend, even in death, holy is alive.
Will you slow down enough to notice the holy instants around you? That is where your REFILL comes in and you are filled to overflowing.
Hello! I'm Jenny Gwinn McGlothern, Certified Transformational Master Coach for your Life and Spirit. I have been leading retreats for women and coaching them since 2009. One of my favorite ways to fill my own cup is by writing. May my weekly blog give you a sip to reflect, a nugget to chew, a thought to refill. If it is an accountability partner you seek, I offer life and spiritual coaching for men, women, teenagers, and couples, in person in Seattle and by phone.  2017 Mini-retreats in West Seattle 9:30 – 2: June 2 (sold out), September 15 (4 seats left). Limited availability, register early. info@mamaneedsarefill.com or www.mamaneedsarefill.com. 206 255 0463.