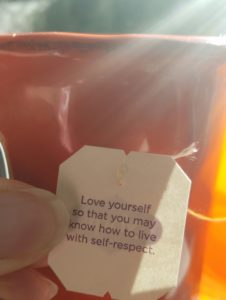 This morning, a couple of hours before women gather for the sack lunch mini-retreat: Loving Cup, I must remember to live like I advocate for others to do. I must be the change my heart desires. I must practice what I preach. I must pour my own cup of love. Regularly.
When the women gather in circle, I will share that our thoughts about ourselves must come from love. As I drive to meet them I will shift my words, I should have done this, I should have done that, if only, to I AM ENOUGH.
I will teach that scheduling time for our needs is not selfish: I will share how I am more present to them and was able to engage with my family this morning because I created the time to be still, to pray, to take a long shower and to eat a hot breakfast before anything and anyone else. I Matter.
I will offer ideas, illicit inspiration, provide suggestions and provide space for them to share their wisdom with the circle. For we all know how to fill our own cups, we simply don't give ourselves permission. We are in practice of taking care of others first, in anticipating their needs, and in honoring their expectations. What if we turned it around? What if we poured love into our cup as we honored ourselves? What if we recognized that in doing so we are spreading out our love beyond our own cup?
I know that when I say, Jenny you are enough and whole as is, you truly matter, this self love demonstrated in word and deed is actually a gift to those I love. They are receiving the better parts of me. Aligned, present, complete Jenny.
What will it take for you to realize that you matter? What will it take for you to take all that love you pour to others and instead of waiting until it is all gone, first fill YOUR cup?
Hello! I'm Jenny Gwinn McGlothern, Certified Transformational Master Coach for your Life and Spirit, who has been leading retreats for women and coaching them since 2009. One of my favorite ways to fill my own cup is by writing. May my weekly blog give you a sip to reflect, a nugget to chew, a thought to refill. If it is an accountability partner you seek, I offer life and spiritual coaching for men, women, teenagers, and couples, in person in Seattle and by phone.  2017 Mini-retreats in West Seattle 9:30 – 2: March 3, (sold out)  June 2 (2 seats left), September 15 (5 seats left). Limited availability, register early. info@mamaneedsarefill.com or www.mamaneedsarefill.com. 206 255 0463.